What We Do
CVAL Innovations is an energy waste reduction company that is dedicated to helping our customers achieve net-zero energy consumption. We offer an integrated energy conservation approach that delivers deep energy reductions, substantial cost savings, increased comfort, and a reduced environmental footprint.

Utility Savings
Our project team is experienced, trained, and certified in measurement and verification of energy savings.

Operational Savings
We are experienced in documenting and calculating a variety of operational savings types associated with energy conservation improvements

Risk Management
Strategies
Our strength as a company is a result of carefully managed project risk. We provide deep energy conservation projects with strong paybacks, but always look to shield our clients from health & safety, financial, operational, and legal hazards.

Project Financing and Incentives
We can help facilitate full project funding for viable energy projects
Learn More
Conservation Pyramid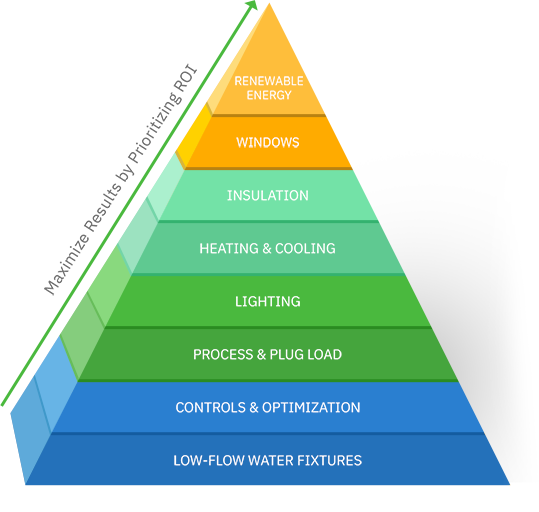 Services We Offer
As your Energy Manager, we will perform the following tasks to reduce your energy costs, Oncor charges, and carbon footprint:

Power Factor Correction
Power Quality Analysis and Correction
Energy Conservation & Efficiency

Energy Budgeting & Procurement
Project Cost/Benefit Analysis
Cash Flow Positive Project Financing
Rebates & Incentives

Predominant Use Studies & Corrective Measures
Billing (Rate & Tariff) Analysis
Demand/Response/Distribution Generation

Renewable Energy
Sustainable Projects
Equipment Upgrades
Membership & Associations