Our Approach
An integrated approach to energy conservation

Utility Savings
Our project team is experienced, trained, and certified in measurement and verification of energy savings.

Operational Savings
We are experienced in documenting and calculating a variety of operational savings types associated with energy conservation improvements

Risk Management Strategies
Our strength as a company is a result of carefully managed project risk. We provide deep energy conservation projects with strong paybacks, but always look to shield our clients from health & safety, financial, operational, and legal hazards.

Project Financing and Incentives
We can help facilitate full project funding for viable energy projects
Conservation Pyramid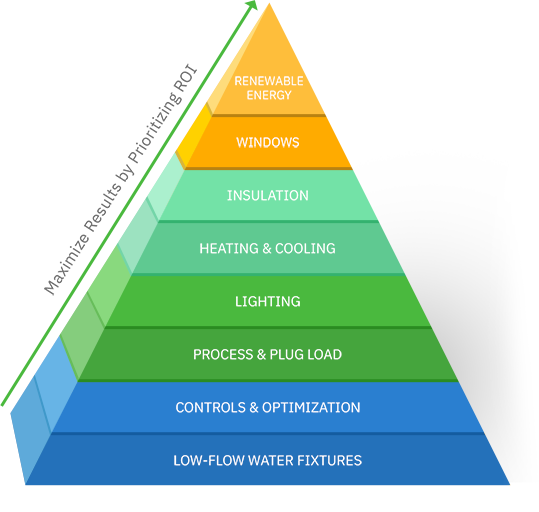 ---
Our Process
From discovery to verification
1
Discovery
Understanding your needs
Opportunity analysis
Facility walkthrough
Review energy consumption
Assess potential savings
2
Investment Grade Energy Audit
Benchmarking and quantifying potential savings
ASHRAE Level II Audit
Identify sources of energy waste
Software modeling and simulation
Estimate project costing and savings
Estimate ROI
3
Design and Implementation
Presenting options and implementing solutions
Develop design proposals
Clarify, consolidate and present offerings
Select and contract vendors
Develop comprehensive implementation plan
Assign team and oversight responsibilities
Establish timeline, milestones and issue resolution process
Implement with pre-scheduled progress updates
Conduct post-implementation review and customer training
4
Savings Verification
Measuring results and ensuring sustainability
Identify Key Performance Metrics, collection methodology and standard reports
Establish ongoing review process towards continuous improvement and sustainability
Our Services
Deep energy reduction services
As your Energy Manager, we will perform the following tasks to reduce your energy costs, Oncor charges, and carbon footprint:

Power Factor Correction
Power Quality Analysis and Correction
Energy Conservation & Efficiency

Energy Budgeting & Procurement
Project Cost/Benefit Analysis
Cash Flow Positive Project Financing
Rebates & Incentives

Predominant Use Studies & Corrective Measures
Billing (Rate & Tariff) Analysis
Demand/Response/Distribution Generation

Renewable Energy
Sustainable Projects
Equipment Upgrades
Solution Coverage
Comprehensive energy reduction
Our solutions cover the following categories:

Building Envelope

Lighting and Electrical Equipment

Heating and Air-conditioning

Controls and Process Optimization

Water Conservation

Process and Plug Load
Insulation

Renewable Energy
---